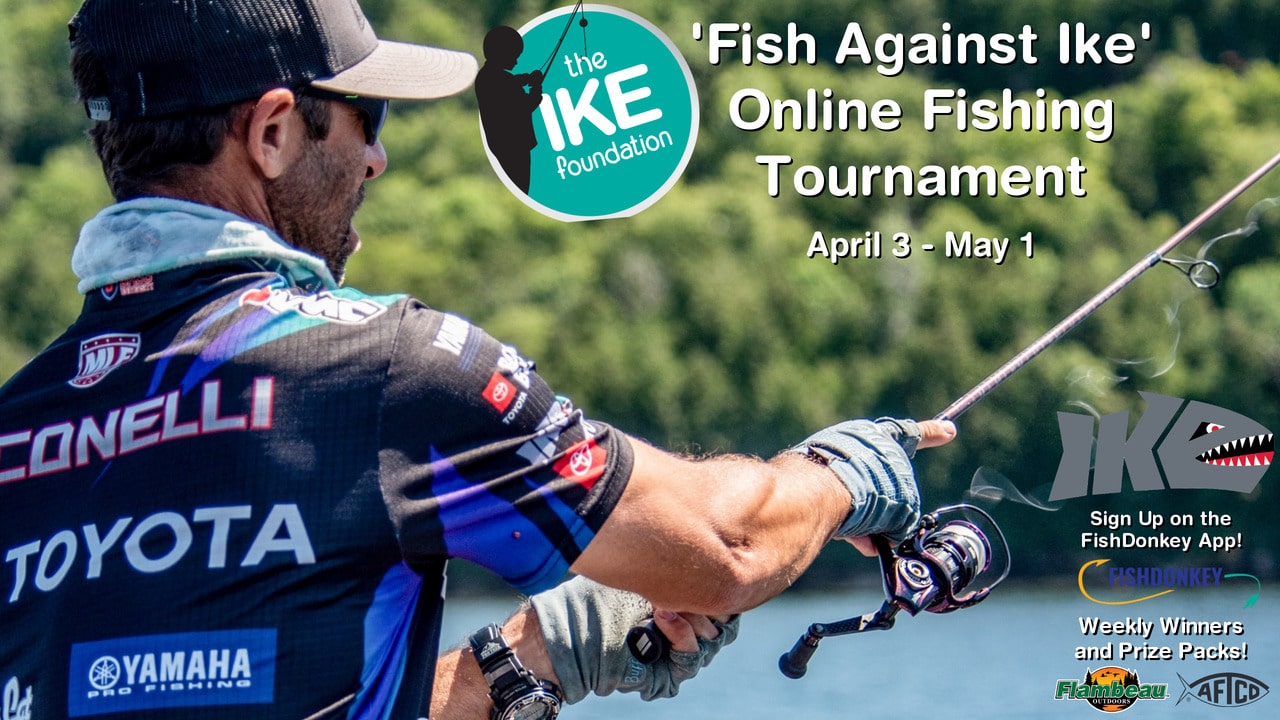 Date
Apr 03 2021

- May 01 2021
Expired!
Fish Against Ike; Online Fishing Tournament
Mike Iaconelli invites anyone able to get out and fish, from the bank, kayak, or a boat and in any legal bass fishing waters. Everyone is invited to compete, with no age limit! This Fish Donkey app-based, fishing tournament runs April 3rd-May 1st. Participants will compete for 16 prizes donated by sponsors like AFTCO, Flambeau, Berkley, Panther Vision, and more! Each week, there will be prizes for the biggest single fish and the biggest 3 fish bag in the Northern and Southern divisions. At the end of each week, the scoreboard resets! Any black bass (no hybrids, stripers, or white bass) can be entered! Best of all 100% of the proceeds from the $20 USD entry fee goes towards The Ike Foundation®'s mission of getting more kids fishing and enjoying the outdoors!
To participate, go to https://www.fishdonkey.com/ike download the app, and register.
How to join…. keep it simple:
Download the FishDonkey app.
Join "Fish Against Ike Online Tournament"
How to join video link: fishdonkey.com/IKE
FishDonkey App
All registration and payment must be completed using the app. The FishDonkey App will be used to photo document fish and will generate live leaderboards. The leaderboards will update throughout the event as fish are submitted. All entries will be considered unofficial until verified.
Measuring & Photo Documenting
-All photos must be taken through the FishDonkey app and measurements must be on a valid measuring board.
-Fish should be recorded immediately and measurements noted by length.
-All submissions must include at least two photographs: 1) A pic of you holding the fish 2) A pic of the fish on the measuring board.
-Close the fish's mouth. The nose should touch the bump of the measuring board (the belly is facing you). The measurement photo needs to include the entire fish on the board.
-If the fishtail is touching the graduation line on the board then that is the exact measurement. If the tail crosses the graduation line, round up 1/4″.
-All participants must have their fish submitted before the end of the tournament.
-Watch a 1 minute tutorial on How to Enter a Fish on Fish Donkey
Watch a 1 minute tutorial on How to Enter a Fish
Watch a 1 minute video on How to Measure a Fish
Measuring Boards
All measuring devices must be commercially made. You are required to have a board with a 90-degree bend that marks 0, and at least ¼" lines. No handmade measuring boards, stickers, or tape measures allowed. No sliding, retractable, or foldable measuring devices are allowed unless approved by the tournament director. If your measurement is not clearly readable in your submission photo, it may not be accepted or could be penalized. Any mass-produced commercial-grade bump board with clear numbering to 1/4″ accuracy would most likely be accepted. Contact [email protected] for specific measuring board inquiries. A list of some acceptable officially-recognized bump-style measuring boards is below.
-Lakebourne The Judge
-Hurricane 40″ Aluminum Ruler
-Frabill Benchmark Series
-Gator Grip Golden Rule
-Berkley Aluminum Fish Ruler
-Rapala Folding Bump Measure
-Ketch Brand
-Hawg Trough Brand